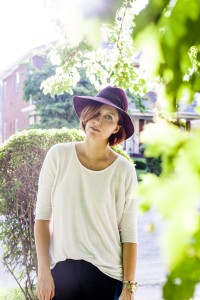 Center for the Arts Story: Meeting Center for the Arts Director Pamela Tatge, interning at the CFA and learning the ropes of arts administration under her incredible leadership. I responded to an ad in the Argus for the CFA arts administration intern opportunity. Prior to that I didn't know much about Pam and what the rest of the CFA staff were accomplishing. The internship gave me a different perspective on what happens at the CFA and also set me up with the skills to work in arts administration and produce concerts and projects in NYC after I graduated. Pam provided me with invaluable guidance and advice during my first year in the professional world – she is a gem and I will always consider her a mentor!
Favorite Course: Not a course, per se, but the independent study opportunities that Jay Hoggard offered me (I would receive early wake-up calls from Jay on lesson mornings to make sure I was on my way to the CFA!), and playing jazz standards with Anthony Braxton outside of class were some of my favorite and most formative musical experiences at Wesleyan.
Favorite Professor: James McGuire.

Thesis Title: My major was Government, and the title of my thesis was "Cold War, Hot Jazz: American, German and Soviet Policy Responses to Jazz Music Pre- and Post-World War II."  But I completed a senior music recital under the supervision of Jay Hoggard, "just for fun," as well.