CFA Arts Administration Intern Chloe E. Jones '15 discusses Dan Froot and Dan Hurlin's "Who's Hungry," which will receive its Connecticut premiere at Wesleyan on Friday, September 27 and Saturday, September 28, 2013 at 8pm in World Music Hall.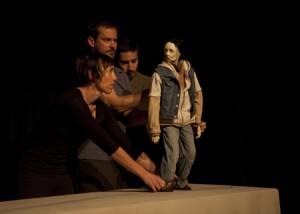 This weekend in World Music Hall four puppeteers will gather around a 24-foot-long dinner table, transformed into a runway-style puppet stage, for the Connecticut premiere of Who's Hungry, a work of experimental theater.
From Los Angeles performance artist Dan Froot and New York puppet artist Dan Hurlin comes a story about the struggle of hunger across America and the strength of community. A deeply collaborative endeavor, Who's Hungry weaves together the oral histories of five residents of Santa Monica, California who have faced either hunger, homelessness or both. To bring their stories to the east coast, Wesleyan's Center for the Arts and Theater Department have partnered with two remarkable organizations: the New England Foundation for the Arts and St. Vincent de Paul Middletown.
A grant from the Expeditions program of the New England Foundation for the Arts has made it possible for Who's Hungry to tour the region.  Each of the partner organizations hosting the performance interviewed members of their community who have either experienced hunger first-hand or seen it up close.  The interviews were compiled into the sound score Who's Hungry New England, which will be incorporated into each performance.  At Wesleyan, this sound score, a powerful montage of voices meant to raise awareness about the impact of hunger in New England, will play as the audience gathers before the performances begin.
Wesleyan is also partnering with St. Vincent de Paul Middletown, an organization that provides food to individuals and families through their community Soup Kitchen and the Amazing Grace Food Pantry. The Soup Kitchen serves nearly 250 prepared meals each day to Middletown residents. The Food Pantry provides food to more than 1,000 households every month.
Representatives from St. Vincent de Paul Middletown, including community members who frequent the Soup Kitchen and Food Pantry, will be on hand at both performances of Who's Hungry.  They will have a table in the lobby where people can learn more about their work and pick up a copy of Soup Stories, a booklet they've created from local stories. Following each performance there will be a live Skype discussion with some of the residents of Santa Monica whose stories are featured in Who's Hungry. Representatives from St. Vincent de Paul Middletown will be there as the voice of the local community. As St. Vincent de Paul's Executive Director Ron Krom said, "Hunger is not just a Cali problem; it's a local problem, too."
Additionally, St. Vincent de Paul Middletown loaned a series of portraits to the CFA depicting guests of the Soup Kitchen to be displayed before each performance.  The simple yet stunning pencil sketches are the work of illustrator/artist and Wesleyan alumna Abby Carter '83.  As a long-time Soup Kitchen volunteer, Ms. Carter chronicled her experience using a camera and a sketchpad. Over 50 of her portraits are now on display at the Soup Kitchen, a gallery of local faces and a beautiful representation of the community. Mr. Krom says the gallery continues to grow as new people arrive and want their portrait proudly displayed on the wall of the Soup Kitchen.
Born of two strong and generative partnerships, the Connecticut premiere of Who's Hungry is an opportunity to engage with an important issue on a local, regional, and national scale.  A product of great collaboration, Who's Hungry is a catalyst for continuing to work together in confronting hunger within our own communities and across the country. Grab a seat at the table this weekend.
Dan Froot and Dan Hurlin: "Who's Hungry"
Connecticut Premiere
Friday, September 27 & Saturday, September 28, 2013 at 8pm
World Music Hall
$23 general public; $19 senior citizens, Wesleyan faculty/staff, non-Wesleyan students; $6 Wesleyan students
A Outside the Box Theater Series event presented by the Theater Department and the Center for the Arts.
Please note that this performance contains mature themes and language that may not be appropriate for all audiences.