CFA Arts Administration Intern Chloe Jones '15 talks to Adjunct Assistant Professor of Music Nadya Potemkina about directing the Wesleyan Concert Choir, who will perform a free concert on Wednesday, December 4, 2013 at 7pm in Memorial Chapel, located at 221 High Street in Middletown.  The concert will feature works by Pyotr Ilyich Tchaikovsky, Richard Genée, Eric Whitacre, Ernst Toch, René Clausen, and Jay Althouse, performed in collaboration with members of the Wesleyan University Orchestra.
Can you tell me a little bit about where you're from and how you ended up at Wesleyan?
I come from St. Petersburg, Russia.  I grew up there and received my bachelor's degree in viola pedagogy, double majoring in choral conducting, and then I came to the United States in 2002 to the University of Northern Iowa  on an exchange program with a string quartet from St. Petersburg.  We came to study chamber music and to work on our masters' degrees in performance.  We did a few tours around the country and some outreach activities in the area. At UNI, I started taking conducting lessons and decided to continue my studies in conducting, but I couldn't get into a doctoral program with a master's in viola, so I went to Ball State University in Indiana to get my master's in conducting and then moved to Memphis.  I currently am an A.B.D. and working on my dissertation.
What is the focus of your dissertation?
I'm trying to find ways to promote contemporary orchestral music and to make it more accessible for unprepared audiences, hopefully by bringing forth certain associative symbols that composers may have had in mind or connections to other art forms—paintings that may have inspired a certain piece of music, sculptures, sources of light, program notes that may help people process sounds that at times are too confusing and hard to understand, or just too far away from the western tradition that we are so used to.
Can you tell me about the program for the Wesleyan Orchestra fall concert that happened last month?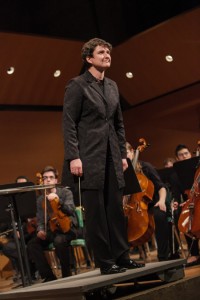 The program was very significant for me personally.  First of all, we are celebrating Tchaikovsky's creative life this year, since it's the 120th anniversary of his death.  This particular symphony [Symphony No. 4] is very special to me.  It was the first piece I ever conducted with a full symphony orchestra.  I was barely able to get through the first five pages of it because the sound, the quality of sound, that you experience standing on the podium just—I don't know, it hit me like a ton of bricks, and I was so overwhelmed.  So, we have Tchaikovsky with this very special piece, and we opened the concert with an overture by a composer who had profound influence on Tchaikovsky's work. In his letters Tchaikovsky writes a lot about Mozart and how much he admires his music and how much it changed his life, his creative process, so I decided to feature an overture by Mozart to precede Tchaikovsky's piece.          
And where was it that you first perform this symphony?
It was part of my final test for a conducting class at University of Northern Iowa.  It was a life changing experience for me.  It was when I decided that I most definitely wanted to experience this kind of music making again, so I decided to continue my studies in conducting.
Do you view conducting as a type of music making, even if you yourself are not playing one of the instruments?
I think it most definitely is a process of music making.  People say often that conductors are not musicians, that they're artists, implying we're sort of standing up there on the podium looking cool.  But I do believe that the things we say and our facial expressions and gestures communicate all sorts of musical ideas on very different levels to the people who surround us.  It changes the way they play.  I see it often when I go to conducting workshops, and you have ten students conducting the same group of people in the same music.  If saying that conductors do nothing special were true, then the piece would sound the same ten times, but it's never the same.  Somehow the quality of sound, the tempo, phrasing—it changes from person to person.
Do you then develop a very personal relationship with the group that you are conducting?
Oh yes, of course.  You must.
How has this relationship evolved over the course of the fall semester?
I certainly know my musicians better now because I have been able to watch them play and see what their technical advantages and difficulties are, what they may need to work on; what is their characteristic way of moving the bow, let's say, or for winds maybe some unique sound quality in certain registers, the tuning specifics, something that's very characteristic of the person.  Knowing that allows me to find ways to help them improve in areas that need attention.
Do you expect to have many of the same students in the spring semester?
I sure hope so.
How many students are in the orchestra this semester?
I have about 23 people registered for the class, but I'm also so fortunate to have such strong support from the faculty and also from the musicians of the Middletown community.  Without their help we wouldn't be able to produce the quality of music we have been able to play.  I think we had about 50 people on stage for the concert last month.
So many of those people were local musicians?
Yes, and they're just kindly donating their time to the group.
Do they come to class periodically?
Yes.  Also, students who wish to play in the orchestra but have scheduling conflicts are welcome to volunteer and come as often as they can.  We've had a couple of faculty members playing.  It's been fun.
How is the experience of working with the concert choir different from that of working with the orchestra?
The conducting style we use for singers differs from how one should conduct an orchestra.  With singing we have a single type of instrument—it's a human voice, and it's also strongly connected to text, to lyrics.  So choral conducting is a lot more abstract.  It sort of paints the pictures in the air.  But with orchestra you have so many different parts and different instruments that produce the sound in very different ways, so you cannot be as free as with singers.  It has to be more strict and precise. We will be singing a colorful variety of pieces, both a cappella and accompanied, with the assistance of members of Wesleyan University Orchestra.
How many instruments do you personally play?
I started at the age of five as a violinist but switched to viola at the age of twelve.  I just like the sound of the viola better.  I play some piano, guitar a bit.
Is it fair to say that you are more interested in how all these sounds can marry and come together?
Yeah, it's magic.