CFA Arts Administration Intern Chloe Jones '15 talks to Claire Marshall '17, Trouve Ivo '15, Alma Sanchez-Eppler '14, and CFA Programming Intern Francesca Miller '14 about the "Living in Song" residency workshops. Participants from the workshops will perform song, movement, and sign language in a free celebratory concert on Thursday, April 17, 2014 at 7pm in Crowell Concert Hall.  
Three members of the Grammy Award-winning African American female a cappella ensemble Sweet Honey in the Rock® [currently celebrating their 40th anniversary season] have been in residence at Wesleyan over the past month.  They've been teaching three different workshops for 65 Wesleyan students and Connecticut residents. The workshops have been held at the Cross Street A.M.E. Zion Church, the Green Street Arts Center, and in the Fayerweather Dance Studio on campus.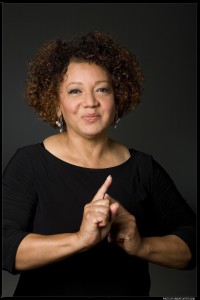 In "The Vocal Movement Experience" workshops, Dr. Nitanju Bolade Casel shows participants how movement and breath can serve as a catalyst for sound.  Dr. M. Louise Robinson leads "The Rhythm Ring," workshops designed to spark musical conversation in the oral tradition of call and response.  Those in Dr. Shirley Mary Childress' "Songs in the Way of Hand" workshops learn to understand and communicate songs visually using the vocabulary of American Sign Language.
Although each of the "Living in Song" workshops has a unique focus, they all center on ideas of community. Part of the mission of Sweet Honey in the Rock® is to engage with and empower its diverse audience. Dr. Casel, Dr. Robinson, and Dr. Childress have achieved just that with their "Living in Song" workshops.
"Looking around the room and recognizing our different backgrounds has been really empowering to me," says Claire Marshall '17.  "It's been a chance to drop into a world where people don't all come from the same place."
The workshops provide a unique opportunity for Wesleyan students to learn alongside Middletown residents.  There are participants commuting from other parts of Connecticut as well, including a few women who sing in a choir in Hartford.
"It's a lot more about the community than about us Wesleyan students," says Trouve Ivo '15.
"The group is incredibly diverse and it has been wonderful to play in this way," comments Alma Sanchez-Eppler '14.
A couple adults are participating alongside their home-schooled children, further broadening the age range of the workshops.  "The children are super enthusiastic," says CFA Programming Intern Francesca Miller '14.
Playful and enthusiastic seem to describe the general mood of the workshops.  "Everyone is always super excited to be there," describes Mr. Ivo.
The energy cultivated in the workshops is radiant, and participants are bringing what they've learned into the community.  Two Wesleyan students are taking the "Songs in the Way of Hand" workshops as a way to become familiar with deaf culture in anticipation of living in Sign House next year.
The "Living in Song" workshops speak to the power of song to foster community, all the while honoring the voice of the individual.
"I've grown to be more comfortable with using my own voice and using song to bring a group together," reflects Mr. Ivo.  "Vocal expression should be more present in creative communities because it's a really incredible, uniting thing."
Living in Song Showing
Thursday April 17, 2014 at 7pm
Crowell Concert Hall, 50 Wyllys Avenue, Middletown
FREE!
Made possible by Wesleyan's Office of Equity and Inclusion.