CFA Arts Administration Intern Chloe Jones '15 talks to Associate Professor of Dance Nicole Stanton about her commissioned work "Threshold Sites: Feast." This Spring Faculty Dance Event will take place on Friday, April 25 at 7pm, and Saturday, April 26, 2014 at 2pm and 7pm in the new Cross Street Dance Studio, located at 160 Cross Street in Middletown.
Social media such as YouTube and Facebook have all but eliminated formerly unbridgeable distances between people and communities across the world.  We are more connected today than ever before.
Coupled with growing concern for the environment, our increased connectivity demands that we reconsider our understanding of community.  What does it mean to be part of a community?  How can we foster local communities in an increasingly globalized world?  How can human communities exist in harmony with nature?
The notion of community is central to this year's Spring Faculty Dance Event. Created and directed by Associate Professor of Dance Nicole Stanton, Threshold Sites: Feast explores the relationships between bodies, communities, and environments through the lens of food.
"Something about the way you live in and experience your body is related to the way you live in and relate to your community and your environment," says Ms. Stanton.
Food relates to it all.  We eat to nourish our bodies, come together to break bread, and depend on the earth for our food.  Food sustains every life, family, and community.
In recent years, food has become a hot topic of debate and conversation.
"There is so much controversy surrounding food production and food security right now," says Stanton.  "So much talk about what diet is good for you and for the planet."
Threshold Sites: Feast is the culmination of Ms. Stanton's engagement in the College of the Environment's 2013-2014 Think Tank: Re-Envisioning the Commons. Over the course of this school year, the Think Tank has made efforts to expand discourse between economists, scientists, ecologists, and ethicists by bringing the humanities and performing arts into the conversation.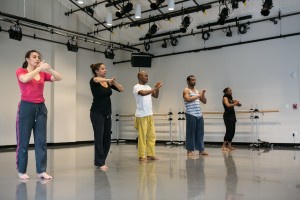 Ms. Stanton will perform in the work alongside Rachel Boggia, Deborah Goffe, Nik Owens '12, and Wesleyan Artist in Residence in West African Dance Iddi Saaka. They are a diverse group, with backgrounds in myriad dance forms and roots across the globe.
"It was an extremely collaborative process," says Ms. Stanton.  "The question being how do all these different bodies come together in a process that feels full and rich and challenging to everyone."
As part of the rehearsal process, Ms. Stanton prompted all of her dancers to reflect on their personal and shared experiences with food.  They collected stories about memorable meals and songs about feasting — weaving many voices together into one rich sound score that backgrounds the event.
Some of the foods discussed in the sound score, many of them cherished family recipes, will be served to the audience.  Yes, there will be literal feasting.
Ms. Stanton intends to source some of the food from Wesleyan's own Long Lane Farm. Greg Foley '16 has been collaborating with Ms. Stanton on a documentary, which parallels the rehearsal process for Threshold Sites: Feast with the process of getting the farm up and running.
Threshold Sites: Feast will be the first performance to take place in the Wesleyan Dance Department's new studio on Cross Street. Formerly the A.M.E. Zion Church, the building has been remodeled into a beautiful dance studio that can also be converted into a black box theater.
Spring Faculty Dance Event
Threshold Sites: Feast
Friday, April 25, 2014 at 7pm
Saturday, April 26, 2014 at 2pm & 7pm
Cross Street Dance Studio
$3 Wesleyan students, $5 all others.
Supported by the Dance Department, the Center for the Arts' Creative Campus Initiative with leadership funding from The Andrew W. Mellon Foundation, and the College of the Environment.