CFA Arts Administration Intern Chloe Jones '15 talks to graduate student Samuel Dickey '14, and seniors Daniel Light '14 and Emmie Finckel '14 about their capstone projects.  
Wesleyan's Center for the Arts offers undergraduate programs in Art & Art History, Dance, Music, and Theater, and graduate programs in Music.  In every department, students have the opportunity to create a capstone project in their final year.  These projects take myriad forms, each one a reflection of the student's unique interests and creative voice.
On Thursday, May 1, 2014 at 9pm in Crowell Concert Hall, graduate student in music Samuel Dickey '14 will present his thesis concert. After graduating from the Berklee College of Music in Boston, Mr. Dickey came to Wesleyan in pursuit of a Master of Arts degree in Ethnomusicology.
The two-year program does not require that students produce a concert, as not all ethnomusicologists play an instrument.  Mr. Dickey, however, picked up his first guitar at the age of ten and hasn't stopped playing since.  In 2010 he learned to play the Jeli Ngoni, a string instrument from West Africa.
His thesis concert brings together musicians from the Wesleyan community and beyond, including a couple of his bandmates from New York City. Half of the performers are Wesleyan students.
In addition to the recital, Mr. Dickey's thesis includes a written component of 75 pages.  His essay examines the role of the guitar in West African music, and how this once foreign instrument became integrated into the performance of traditional songs.  He is looking specifically at music produced on either side of the border between Mali and Guinea.
"Guitars have become a vehicle for translating traditional music into a more popular sphere," he explains.  "But more than the music being westernized by the guitar; the guitar has been Africanized by the music."
Together, the essay and his recital mark the culmination of his studies at Wesleyan.
"The master's program has been great," says Mr. Dickey.  "I think it will allow me to pursue the sort of foothold I've been after in the music world."
After graduation Mr. Dickey hopes to attain an ensemble coaching position or become an artist-in-residence.
In addition to graduate students, many undergraduates in the Music Department produce recitals as their senior capstone projects.  One such undergraduate is Daniel Light '14, whose senior recital Resonance took place on Friday, April 18, 2014 in World Music Hall.
The Music Department grants its undergraduate majors a lot of flexibility in designing their senior projects.  One student may choose to record an album, while another opts for making a musical.
Mr. Light began with a couple of songs that he had written and ultimately developed a set list of seven original numbers.  He performed four of the songs with a full band, one with a string trio, one with a choral group, and one as a solo.
"It felt like a launching point," reflects Mr. Light.  "I remember thinking that I would like to do this again at some point, to use my own material to fuel a concert."
Much like students in the Music Department, those majoring in Theater have the leeway to design a senior capstone project tailored to their interests.  This past November, as part of her thesis, Emmie Finckel '14 designed the set for the Theater Department's production of Anton Chekhov's The Seagull.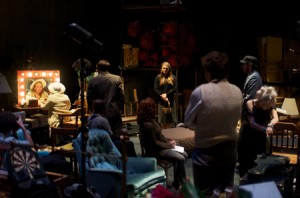 Envisioned as a theater prop house gone to ruin, the set filled the enormous stage in the CFA Theater with furniture and other objects.  The audience watched the performance from the stage, immersed in the set alongside the actors.
The hands-on work that Ms. Finckel did for The Seagull comprised the first part of her thesis.  The second part is an essay of 30 to 40 pages, in which she examines audience agency in immersive theater design.
Ms. Finckel's thesis gave her the opportunity to work closely with faculty members, including Associate Professor of Theater Yuri Kordonsky, who directed the production, and Assistant Professor of Theater Marcela Oteíza, who has become a mentor to Ms. Finckel in her time at Wesleyan.
"It was wonderful to feel like they respected me enough to want me to be involved [in The Seagull] as their collaborator," recalls Ms. Finckel.
Dramatically different in approach and content, these three examples of capstone projects speak to the wide-reaching interests of Wesleyan students and their impulse to innovate and create.  The capstone programs provide students an opportunity to synthesize the experiences that they've had at Wesleyan, reflecting both on where they've been and where they can go.