Center for the Arts Engagment Intern Sharifa Lookman '17 talks to Leila Buck '99 about "Hkeelee (Talk to Me)," a solo performance which will have its Wesleyan debut on Wednesday, October 29, 2014 at 7pm in CFA Hall as part of "Muslim Women's Voices at Wesleyan."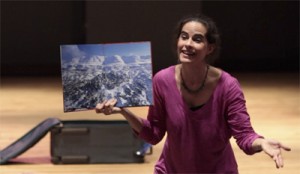 Written and performed by Lebanese American writer, performer, and teaching artist Leila Buck '99, Hkeelee (Talk to Me) is a dynamic one-woman show that seeks to reconcile the personal and political contentions related to her heritage, familial memories, and the meaning of being American through an explorative and interactive performance.
In the performance, Ms. Buck attempts to move her Lebanese grandmother with Alzheimer's disease into assisted living. The performance's narrative is rather straightforward: Ms. Buck unpacks a suitcase of belongings. This action proves dualistic—in addition to setting up a simple narrative, it sets the foundation for a performance dialogue of stories related to Ms. Buck's heritage, exploring both the beauties and the trials.
"It's very rooted in the oral storytelling tradition—so actually, very simple—me, a few objects, a music stand, a chair, and a microphone mainly for recording purposes," Ms. Buck said in an interview when describing the piece. "I may use a bit of music here and there, played from my own iPod on stage. But other than that it's a back to basics piece about a woman trying to figure out how to hold on to the stories of her family, which to pass on and which to let go. So it's very raw in places as I piece together fragments of stories/memories/objects, asking the audience to participate and along the way attempting to put together the fragments of a life formed in, and by, transition."
This performance addresses issues that are specific to Ms. Buck's personal journey, but that are also universal. "We all feel unsure of ourselves, confused, and lost sometimes," Ms. Buck said.
Ms. Buck hopes that "those who come will leave with a more personal lens into Lebanon, dementia, and what it means to be(come) American; that they will recognize their own families, struggles, and stories in mine; that they will engage with people and places they may never otherwise have encountered, and in doing so, realize the connections between them."
Ms. Buck has also been commissioned to create a new theatrical work as part of Muslim Women's Voices at Wesleyan. This new piece will have two work-in-progress showings on Friday, April 17 and Saturday, April 18, 2015 at 8pm in World Music Hall. Ms. Buck invites members of the Wesleyan and Connecticut community to share in her workshops that seek to challenge our understanding of stories in their power, interactivity, and universality.
Hkeelee (Talk to Me)
Written and performed by Leila Buck '99
Wednesday, October 29, 2014 at 7pm
CFA Hall
FREE!