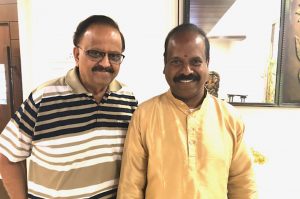 Adjunct Associate Professor of Music B. Balasubrahmaniyan shares a tribute to S.P. Balasubrahmanyam, "a rare combination of humanitarian and legendary singer," to whom the Navaratri Festival Committee has dedicated Wesleyan's 44th annual Navaratri Festival.
The iconic singer S.P. Balasubrahmanyam (1946-2020) was one of India's most celebrated artists. Shattering world records for singing more than 40,000 songs in sixteen different languages, SPB or Balu Sir (as he's fondly referred to), was unmatched in his vocal range for Indian cinema, throughout South Asia, spanning multiple popular and classical genres of music.
For me, he was not just a musical legend, he was also one of the most compassionate humanists that I have met and interacted with. He held many unbreakable records in his music career for the past five decades starting from the mid 1960s as well as holding equally unbreakable records in generosity, compassion, and humility!
I have experienced his love and affection from my recent meeting in 2019 (pictured above).
His recent demise on September 25, 2020 has left millions of his ardent fans feeling devastated and empty.
Wesleyan dedicates its 2020 Navaratri Festival to S. P. Balasubrahmanyam as a testimony to his unique musical ability to unite South Asia and South Asians in truly interconnected ways, transcending language, ethnicity, caste, class, and more.
For a detailed insight into this genius singer's life, see this recent BBC profile:
SP Balasubrahmanyam: Legendary Indian singer dies