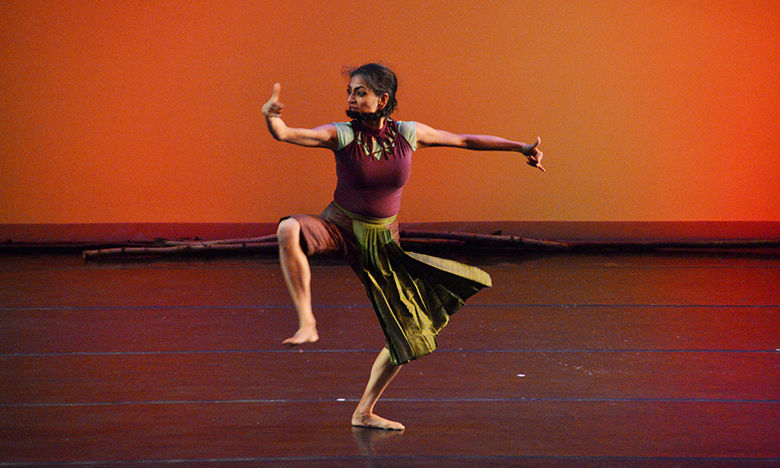 Dear Friends of the Center for the Arts,
Professor and Chair of the Dance Department Hari Krishnan talks with his longtime colleague and friend choreographer Ananya Chatterjea to discuss her upcoming "Feminist Rage and Healing" Movement Workshop on Wednesday, March 10, 2021 at 8pm.
Ananya Chatterjea অনন্যা চট্টোপাধ্যায় is a 2011 Guggenheim Choreography Fellow, a 2012 McKnight Choreography Fellow, a 2016 Joyce Award recipient, a 2018 Urban Bush Women Choreographic Center Fellow, and a 2019 Dance/USA Artist Fellow. She is a Professor of Dance at the University of Minnesota, where she teaches courses in Dance Studies and technique.
Hari Krishnan is Chair and Professor of Dance at Wesleyan University. A 2013 Bessie Award nominee in the Outstanding Performance category, he is a dancer, choreographer, scholar, and educator, and is the artistic director of Toronto-based dance company inDANCE. His monograph Celluloid Classicism (2019) recently won a special citation from the 2020 de la Torre Bueno© First Book Award Committee of the Dance Studies Association. The book has been hailed as "an invaluable addition to scholarship on Bharatanatyam."
Warrior-feminist-dance artist Ananya Chatterjea will lead a seminal and urgent workshop on feminist rage and healing at Wesleyan on March 10, 2021. Why is this workshop important in terms of the complex world we all inhabit today?
While some of the issues we are facing today are old, we are experiencing them in new formations. There is urgency as the ecosystemic balance—both in terms of the extractive economy of capitalism that is destroying our habitat, and in terms of violently stifling emergent voices for justice from long and historically marginalized communities—tips over. Sometimes I think all we have is ourselves, in the manner of brilliant Black queer feminist writer June Jordan's words: "We are the ones we have been waiting for." Yet, we have to practice being there for ourselves—in embodied terms. So we practice the regulation of our over-activated nerves, and we care for ourselves and each other, even as we push back consistently and repeatedly against the violences directed at us. This is a practice, this articulation of rage at what is being done to us and in our name, and the ability not to be burned by its power.
What would you like the participants to take away from this experience?
An embodied knowledge of articulating rage.
Could you discuss the syncretic ways you integrate performance, scholarship and social justice issues?
The injustices that are in front of us are multi-pronged, Hydra-like, constantly reincarnating themselves. Some of these we are sharply opposed to, and some, because they are systemic, we are implicated in, albeit unwittingly. It takes all of the skills I have learned and continue to chisel, to identify them through the culture of shiny consumerist capitalism and convenience, and to invite others to do the same. And to imagine a world without these violences—it takes every cell of my body to practice moving as if these violences were not poisoning our world. It takes deep study, critical analysis, intellectual and practice-based rigor, creative ferment, undoing of old learnings, imaginative flights, it takes everything informing each other.
We hope you join us for this movement workshop experience on Wednesday, March 10, 2021 at 8pm. Reservations are limited to 40 people and are free through the Center for the Arts box office.
Fiona Coffey
Associate Director for Programming and Performing Arts
Center for the Arts