First, I want to thank everyone for enlivening this blog with your opinions about the work that you've seen at the Center for the Arts over the past month.  All of us at the CFA appreciate your comments…keep it up!  There's nothing better than an engaged audience!
I had a wonderful trip to New York on Saturday to see the latest iteration of the Eiko & Koma Retrospective Project at New York's Baryshnikov Arts Center.  Sam Miller '75, the producer of the project, and Program Director of Wesleyan's new Institute for Curatorial Practice in Performance, introduced the work and two members of ICPP's faculty (Judy Hussie-Taylor, Danspace Project and Doryun Chung, MOMA) gave an introductory talk and then we were ushered into an adjacent studio to view the installation.  If you saw Raven at Zilkha in November of 2009 or at the CFA Theater last summer, you would see how Naked has grown out of that work.  The scorched canvas pressed with rice and salt now surrounds the work and the audience.  Eiko and Koma lie together on another canvas laden with earth and raven feathers.  To me, the work is about life and death, aging bodies, memory, dreams, proximity and distance.  It is visually stunning and completely captivating.  The New York Times thought so too.
I saw Evelyn Israel '10 and Julia Cheng '08 in the audience and chatted with them after we saw the piece.  They, too, were moved and excited to see the long line of people waiting to get in.
Those of you who attended the Liz Lerman Dance Exchange's Time Has Set the Table for Tea in February will remember Brian Stewart, Professor and Chair of Wesleyan's Physics Department, who hosted of the tea alongside the character of Edith Warner.  You'll be interested to know that after his highly acclaimed performance, Brian went on tour with the Dance Exchange!  The company performed The Matter of Origins (which includes the stage work as Act I and the tea as Act II) at Montclair State University in New Jersey last week, and Brian reprised his role as host of the tea for three sold-out houses.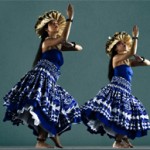 Finally, please don't miss KaWa Hula: Hula Through Time on Friday night.  This is the first time we have featured traditional Hawaiian music and dance in Crowell Concert Hall.  The group of glorious dancers and their jovial master Kawika Alfiche are from San Francisco and received a wonderful write up in the Times for their performance at Symphony Space last week.
Our own Kehaulani Kauanui, Associate Professor of Anthropology and American Studies, gives the pre-show talk at 7:15pm.
Click here for more information or to purchase tickets online.
Pamela Tatge
Director, Center for the Arts