On Saturday April 28, the Wesleyan Music Department and the Center for the Arts present the Jay Hoggard Quartet. CFA Intern in Arts Administration JoAnna Bourain '12 interviewed Wesleyan Adjunct Professor of Music Jay Hoggard about his upcoming performance.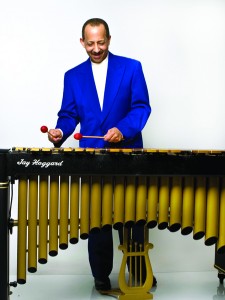 On Saturday night,  accomplished vibraphonist and Wesleyan music professor Jay Hoggard will be performing with the Jay Hoggard Quartet in Crowell Concert Hall. He will be joined by pianist and organist James Weidman and drummer Yoron Israel.  His special guests include Wesleyan Professor of Music and saxophonist Anthony Braxton, master percussionist Kwaku Kwaakye Martin Obeng, bassist Santi Debriano, woodwind player Marty Ehrlich, and harpist Brandee Younger.
Professor Hoggard explained that he has performed with the Wesleyan Jazz Orchestra both officially and unofficially for the past 20 years.  Saturday's performance is different because the Jay Hoggard Quartet will be playing his original compositions. His excitement about the performance is infectious:  "Performing in Crowell Concert Hall is like performing in my living room – I feel at home there." He explained to me, "Teaching is my day job – I am also a professional musician who performs and tours." Jay Hoggard's performance will be an occasion for his students, both past and present, to hear him play his own work. Mr. Hoggard is also well known in town as the charismatic band leader who takes the Wesleyan Jazz Orchestra to give free performances in Middletown schools.  Local families now have the chance to hear Mr. Hoggard's music played as it should be played: in a major concert hall alongside his talented musician-friends.
Concerts like Professor Hoggard's and other faculty productions are important because we (students) get to see how the faculty that have shaped us as artists work and perform. We are given the chance to understand how the skills and theory they have shared with us are called into practice in their own creative process. Faculty productions give us the opportunity to witness the necessary diligence and skill it takes to be a professional artist.
Perhaps, most importantly, these productions are the time in which we come to understand how impressive our faculty is and to reflect on how much knowledge we have gained from these substantial professors. Maybe I am feeling sentimental because graduation is just around the corner but faculty productions remind me of the inevitable transition from a student to a creative peer of our teachers. My confidence in making this transition is a testament to the arts faculty's ability to share skills and information and their ability to cultivate creative students.
11th annual Wesleyan Jazz Orchestra Weekend
Jay Hoggard Quartet

Saturday, April 28, 2012 at 8pm

Crowell Concert Hall

Tickets: $15 general public; $12 senior citizens, Wesleyan faculty/staff, non-Wesleyan students; $6 Wesleyan students
As a part of the 11th annual Wesleyan Jazz Orchestra Weekend, the Wesleyan Jazz Orchestra, directed by Jay Hoggard, and the Wesleyan Jazz Ensemble, directed by Jazz Ensemble Coach Noah Baerman, will perform an exciting free concert of classic jazz compositions on Friday, April 27, 2012 at 8pm
 in Crowell Concert Hall
.