Director of the Center for the Arts Pamela Tatge discusses choreographer Andrea Miller, and her company Gallim Dance.
[The performance by Gallim Dance on Saturday, February 9, 2013 at 8pm has been canceled due to the snow storm. Ticket holders have the following options:  receive a gift certificate to be used for a Breaking Ground Dance Series performance during the 2013-2014 season; return tickets for a tax deductible donation to the Center for the Arts; or receive a refund. Please call the Wesleyan University Box Office at 860-685-3355 for more information. Click here to read the text of the talk about Gallim Dance prepared by dance scholar Debra Cash.]
[The Master Class with Andrea Miller on Saturday, February 9, 2013 at 2pm has also been canceled.]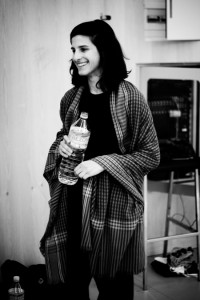 It's hard to fathom all that choreographer Andrea Miller has accomplished in the past six years. She has created a highly acclaimed company, Gallim Dance, that this year alone will tour to the Guggenheim Museum, Sadler's Wells (London), Brooklyn Academy of Music, Théâtre National de Chaillot (Paris), and festivals in Germany and Austria. She's won awards from the Princess Grace Foundation and USA Artists. She's been commissioned by Nederlands Dans Theater 2 (The Hague),  Noord Nederlandse Danse, Phantom Limb and Bern Ballet (Switzerland). And a year ago, she established a permanent home in Brooklyn that hosts year-round education and performance programs.
But this week, she comes home to Connecticut, a state where she spent her formative years, attending the Foote School in New Haven and Choate Rosemary Hall in Wallingford. Andrea's mother Irena Tocino was a great friend of Mariam McGlone, who together with Center for the Arts staff founded DanceMasters Weekend at Wesleyan. Mariam was an important mentor to Andrea, and the young dancer came to take Master Classes at DanceMasters while she was studying at Juilliard. Mariam always knew she would end up a choreographer! In 2011, Wesleyan awarded her the Mariam McGlone Emerging Choreographer Award, and her company brought the audience literally to their feet.
What's distinctive about Andrea's choreography is its visceral quality: it is fearless movement that is at times poetic, and at other times, quite mad. Her dancers are all individuals – their personalities, their passions are all accessible and immediate.
We always knew we wanted to bring her back for a full evening program, and we were delighted when her schedule opened up to make that possible. Tonight, Andrea will have dinner with Jewish students on campus and discuss the creative path that led her to Mama Call (2011), the work that will open the program and has roots in Andrea Miller's Sephardic-American heritage. Ms. Miller adapts the Sephardic story into a contemporary and more universal tale of border-crossing investigating the idea of how those who have been displaced rescue the idea of "home." The second piece on the program is a Gallim masterpiece, Pupil Suite, created in 2010.
Join us as we welcome this extraordinary choreographer and her company of brilliant dancers to Wesleyan.
See the feature from the Sunday, February 3 edition of the Hartford Courant here.