Director of the Center for the Arts Pamela Tatge talks with Lee Breuer, who conceived and adapted (with Maude Mitchell) "Glass Guignol: The Brother and Sister Play," which will receive its first Connecticut performance on Saturday, February 16 at 8pm.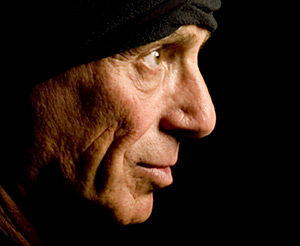 One of my top ten theater experiences of all time was seeing Lee Breuer and Bob Telson's The Gospel at Colonus, a Pentacostal version of Sophocles' Oedipus at Colonus that premiered at BAM's Next Wave Festival.  I remember getting completely immersed in the world that Mr. Breuer created, and knew that he was pushing the theatrical form unlike anybody else.  Since then, the co-founder of Mabou Mines has created work after work for those with an appetite for intelligent, risk-taking and provocative work in downtown New York and around the world. Wesleyan audiences will remember his talks as a part of the Outside the Box Theater Series over the years, and many Connecticut theater-goers had the opportunity to see his masterpiece, Mabou Mines DollHouse in New Haven in 2006 [a Long Wharf Theatre/Yale Repertory Theatre co-presentation].
This Saturday, Mr. Breuer brings his latest work, Glass Guignol: The Brother and Sister Play, to Wesleyan. When I spoke with Mr. Breuer about what compelled him to make this piece, he told me about the intensity of his experience directing A Streetcar Named Desire for the Comédie-Française.  The legendary theater company had never presented an American play in its 330 year history, and they chose Mr. Brueuer to bring the American classic to life in a new French adaptation.  The work played to rave reviews and sold out houses for six months straight, until the Williams estate shut it down.  He explained that they didn't like the non-traditional unorthodox direction, and wanted to keep it from being seen.
"Tennessee was brought down by critics, in the end," Mr. Breuer explained. "They hated him because he was gay, and because he changed his style of work. He wrote 30 plays after he brought Streetcar to Broadway, only a few of which got any attention. I could relate to that." Mr. Breuer went onto say that he got rave reviews of Gospel at Colonus when it was at BAM, but that all changed when it went to Broadway.  "In Glass Guignol, I'm experimenting with how to direct Williams' later plays which have yet to be successfully done."
At 76, Mr. Breuer said he's working on three plays simultaneously.  "I have a lot I want to do while I can," he said. Glass Guignol is an exploration/excavation of the multi-faceted fictional refractions arising from Williams' erotic, voyeuristic relationship with his sister, Rose.  It uses Two-Character Play as a frame and then references many of the women in Williams' other plays, stories, and poems [The Glass Menagerie, A Cavalier for Milady, and Suddenly Last Summer] that dramatize the brother/sister relationship. Actress Maude Mitchell co-created the work and plays many of the women.  The play also features Jessica Weinstein '02, the only actress ever to appear twice in one season at the Center for the Arts!  Last September, Wesleyan audiences had the chance to fall in love with Ms. Weinstein's Tall Hilda in Anonymous Ensemble's Liebe Love Amour!
A Mabou Mines Masterclass Workshop Production
"Glass Guignol: The Brother and Sister Play"
Conceived and adapted by Lee Breuer and Maude Mitchell
Saturday, February, 16, 2013 at 8pm
CFA Theater
$25 general public; $20 senior citizens, Wesleyan faculty/staff, non-Wesleyan students; $6 Wesleyan students
Panel Discussion: Tennessee Williams after "Iguana"
Thursday, February 14, 2013 at 4:15pm
CFA Hall
FREE!
Featuring Lee Breuer, Maude Mitchell, and Thomas Keith, Editor, New Directions Publishing and Dramaturg of Glass Guignol: The Brother and Sister Play. Moderated by Wesleyan Professor of Theater Ronald Jenkins.