CFA Arts Administration Intern Chloe Jones '15 talks to Sara Guernsey '15, Wesley Martinez-Close '15, Jillian Roberts '15, Eury German '16, Ari Markowitz '17, and José Louis Sanchez '18 about their involvement with "In the Heights," which is being presented by the Theater Department tonight through Sunday, November 16, 2014 in the CFA Theater.   
Presented by the Theater Department in collaboration with the Music Department, Wesleyan's production of In the Heights opens tonight.
With book by Wesleyan's Shapiro Distinguished Professor of Writing and Theater Quiara Alegría Hudes, In the Heights is the winner of the 2008 Tony Awards for "Best Musical," "Best Original Score" (Lin-Manuel Miranda, Theater '02), "Best Choreography," and "Best Orchestrations" (Alex Lacamoire and Bill Sherman, Music '02).
Mr. Miranda wrote the first draft of In the Heights in 1999 as a sophomore at Wesleyan. Wesleyan's student theater company Second Stage presented the play in April of that year. Four Wesleyan students—seniors at the time—then approached Mr. Miranda and proposed the play be expanded to a Broadway production.
Nine years later, in March 2008, In the Heights premiered on Broadway at the Richard Rodgers Theatre.
In the Heights tells the story of a close-knit community on the brink of change in New York's Washington Heights neighborhood. "I think it was mainly the story that made me want to audition," said Eury German '16, who plays the male lead Usnavi, and an ensemble member named Ángel.
Wesleyan's production brings together students with diverse performance backgrounds.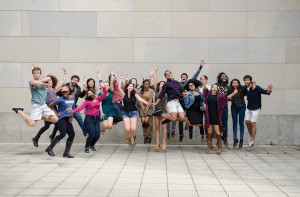 "We have dancers, we have singers, we have actors, and not all of us were good at everything," said Sara Guernsey '15, who plays Camila Rosario. "But we were able to teach each other."
"I learned a lot of choreography skills that I didn't know before," says José Louis Sanchez '18, who plays Piragua Guy. "I think that's the beauty of this process—all of us were strong in one suit and through this process we were able to grow in others."
"Our director, Cláudia Tatinge Nascimento, often told us that [this is not the Broadway production], that this is going to be our own different version," says Ari Markowitz '17, who plays Sonny. "I'm glad that I hadn't seen the Broadway production before because I got to come at it with a blank slate, and everything I saw forming was purely ours without any preconceived notions about what the show should be."
"I went into it with a very open attitude," said Wesley Martinez-Close '15, who also plays Usnavi and a member of the ensemble named Jesús. "It was all new to me."
Ghostlight Records released the original cast recording from the Broadway production in June 2008, which won the 51st annual Grammy Award for "Best Musical Show Album."
"Two weeks before school started I was listening to the soundtrack nonstop," said Mr. German. "The music is unlike any other musical."
Jillian Roberts '15 and Naomi Wright '17 co-choreographed all of the dancing in the production.
"The movement in the show is a fusion of hip-hop, Latin, and Caribbean dance," said Ms. Roberts. "Naomi and I combined our dance histories, knowledge, and vocabulary to assemble a body of choreography that both represents the fusion of cultures in the show and also the styles of music that are represented in the show."
Wesleyan's production of In the Heights has been months in the making.
"I'm really excited for everyone to have their hard work displayed for the larger community," said Ms. Roberts. "A show that is this multicultural and diverse doesn't often show up on a main stage university theater, and it's exciting for us to be a part of this kind of unique theater production."
"This is by far the most exciting thing that any of us are going to do this semester," says Mr. German. "I am, deep down, so excited for this to come together."
Theater Department
In the Heights
Wednesday, November 12 through Saturday, November 15 at 8pm
Sunday, November 16 at 2pm and 8pm
CFA Theater
$15 general public; $12 senior citizens, Wesleyan faculty/staff/alumni, Middletown residents; $7 all students
Click here to purchase tickets online for the Sunday evening performance.