CFA Arts Administration Intern Chloe Jones '15 talks to Dawn Elder, manager of Riffat Sultana, who makes her New England debut with her band Party at Wesleyan on Friday, November 7, 2014 at 8pm in Crowell Concert Hall.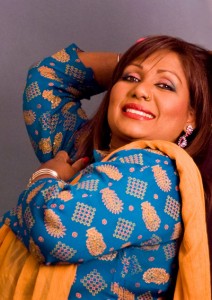 "Riffat Sultana channels the musical wisdom of 500 years and eleven generations of master musicians from India and Pakistan, bringing a spectacular voice and talent to the world stage." —Banning Eyre, Afropop Worldwide
In 1995, Riffat Sultana became the first woman in her family to sing in public.
Her father, the late Ustad Salamat Ali Khan, is universally recognized as one of the greatest Pakistani classical singers of his generation. Her mother, Razia, comes from a line of highly respected Shiite musicians in India and is herself a talented vocalist. But as a woman, Razia was prohibited from singing in public, with the exception of Sufi ceremonies held in the family home.
Riffat expressed an interest in music early in life, wishing from a young age that she could study classical music like her four brothers. Denied the opportunity to study music formally, she picked up what she could from traditional and popular songs she heard on tapes and on the radio.
Learning songs came easily for Riffat, and soon family friends began to comment on her unusual talent and promising voice. Some even offered to teach her classical music, but her father refused.
But her big break came in 1990, when her father invited her to tour with him in Europe and the United States. Although primarily tasked with tending to the domestic needs of her father and brothers on tour, Riffat was permitted to join them onstage to play the tambura, a traditional string instrument.
Ultimately, Riffat and her brother, Sukhawat Ali Khan, convinced their father to let them move to the United States. Here they found welcoming communities of American-Pakistani musicians who encouraged them to pursue their passion for music. In 1995, Riffat took the stage to sing publicly for the first time.
Riffat's musical career took off from there. At first, she kept it a secret from her father, but eventually he learned of her growing success, and gave her his blessing to continue performing. He even taught her the classical forms of his unique style of vocalization and music.
That influence is evident in Riffat's music today. "She has a versatility of taking her vocalization and her improv and fitting it within a western sound, [but also] fitting intimately into a natural folk traditional style," said her manager, Dawn Elder.
"It's the warmth that draws me to her music," said Ms. Elder. "It's the intimate tonality and the authenticity of her sound. Not a lot of frill, not a lot of fuss—just pure music."
Riffat Sultana has collaborated with many influential musicians including Quincy Jones and Nile Rodgers. She has shared the stage with Patti Austin, Lionel Loueke, Richard Bona, Michael Franti, and Ben Harper, among others.
"She's one of the only Pakistani female singers to ever perform with full orchestration," explained Ms. Elder. "There has not been anyone quite like her, [and] she has certainly opened a door for other women."
As part of Muslim Women's Voices at Wesleyan, Riffat Sultana makes her New England debut this Friday, November 7, 2014 at 8pm in Crowell Concert Hall. Performing a wide variety of traditional and modern works from Pakistan and India, Riffat will be accompanied by an all-star ensemble that includes her brother Sukhawat Ali Khan on vocals and harmonium, her husband Richard Michos on guitar, Gurdeep Singh on tabla, dholak, and dhol (double-headed drums), Jay Gandhi on bansuri (bamboo flute), and very special guest Mitch Hyare, an internationally renowned dhol master.
"Her music is unexpected and exciting and really warm," said Ms. Elder. "She brings you into her backyard. She welcomes you into her home. The stage is her home."
Riffat Sultana and Party
New England Debut
Friday, November 7, 2014 at 8pm
Crowell Concert Hall, 50 Wyllys Avenue, Middletown
$22 general public; $19 senior citizens, Wesleyan faculty/staff/alumni, non-Wesleyan students; $6 Wesleyan students
A Crowell Concert Series event presented by the Music Department and the Center for the Arts.
Pre-concert talk at 7:15pm by Professor of Religion Peter Gottschalk.
Tell Your Story: A Conversation with Riffat Sultana and Party
Thursday, November 6, 2014 at 7pm
CFA Hall, 287 Washington Terrace, Middletown
FREE!
Hear from Sufi fusion singer Riffat Sultana and Party about her experiences as a Muslim woman artist both in America and abroad in Pakistan and India. Moderated by Lebanese American writer, actress, and teaching artist Leila Buck '99.