Wesleyan Dancelink Fellow Naya Samuel '14 discusses her experience with Doug Varone and Dancers, who will present "Stripped/Dressed," featuring "Rise" and the Connecticut premiere of "Carrugi," on Thursday, September 12 and Friday, September 13, 2013 at 8pm in the CFA Theater.
Through the Center for the Arts Dancelink Fellowship program, I got the opportunity to intern with Doug Varone and Dancers in New York this past summer, and I've become a huge fan of their work. The company was founded in 1986, and is the resident company at the 92 Street Y Harkness Dance Center, which has been home to some of the biggest names in modern dance, from Martha Graham to Merce Cunningham to Alvin Ailey. Since its founding, Doug Varone and Dancers has toured extensively across the United State and in Europe, Asia, Canada, and South America. They've won 11 New York Dance and Performance Awards, also known as Bessies, and just celebrated their 25th anniversary. The New Yorker noted that "few choreographers can move people around the stage like Varone can. He is able to see overlapping and intertwining groups clearly, and to create movement for them that turns them into breathing organisms." After spending a summer with the company I agree that Doug's work is an astonishing blend of touching humanity and complex detail.
One of my favorite nuances of this company is their Stripped/Dressed performance format. This unique method is a beneficial and inventive way to make a specific art vocabulary less foreign to someone who is not immersed in that field. The first half of the program, Stripped, offers a bare version of a performance that focuses on the choreography and the creation of a piece as explained by Doug. This section is performed with the dancers in rehearsal clothes and with minimal lighting. At Wesleyan, the company will start by performing Rise, which premiered in October 1993 and represented a huge choreographic shift for Doug. It's a high-energy, demanding piece requiring great physicality from its dancers, and it always leaves me excited about the work.  The costumes in the piece have become well known, so it'll be an interesting reflection on the theatrics of putting a piece on stage to see it without them, and how this change affects the way it is perceived.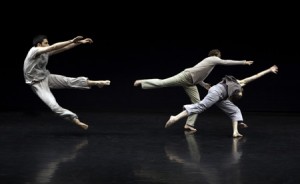 The second half of the program, Dressed, has the company performing Carrugi fully produced, with costumes, lighting and sound. Doug will have walked us through its conception and creation before intermission. It's pretty exciting for me to watch or rewatch a piece once Doug has walked us through it. He gives us a context that we otherwise lack while watching most dance companies perform. Carrugi premiered in March 2012, and was inspired by the winding pathways in between small towns on the hillside of Italy's Liguria region. Set to music by Mozart, the piece is intricate and attentive to detail, and ultimately satisfying both in its dynamic musicality and the relationships between dancers.
The focus of my Dancelink Fellowship was marketing and promotion, especially via social media, but during my time with the company I became familiar with almost all of the necessary components of running a non-profit. The internship was completely immersive. The company had been preparing for their summer intensive in Brockport, New York, and when I started interning the workshop was about two weeks away. Along with another intern, Ellyn, and my supervisor  and company member Eddie Taketa, I headed up to Brockport, six hours away, to stay for about a month with 70 dancers and the company.
In addition to running the company's social media campaign, I also got to participate in classes, which was thrilling. It's a small company, eight dancers, which made for an intimate class setting. It felt like we really got to know all of the dancers as crucial components of the company as well as as individual artists. Everyone was so open and eager to share their knowledge of the field, which was helpful to the handful of us there who were getting ready to graduate and trying to figure out what we wanted to do in the dance field. It was an incredible experience to switch back and forth between watching rehearsals and performances, which gave me a much deeper insight into what I was watching, as well as the different ways in which choreographers work.
I was able to learn about Doug's method, and his use of choreographic games and dancer participation. The company members were so passionate about everything they were doing that it was impossible to not feel energized. I can't think of a better finale to my Dancelink Fellowship than to be in the CFA Theater to welcome Doug Varone and Dancers to Wesleyan.
Click here to watch an interview with Doug Varone and company members Xan Burley and Alex Springer, conducted by Wesleyan DanceLink Fellow Naya Samuel '14.
Doug Varone and Dancers: "Stripped/Dressed" featuring "Rise" and "Carrugi"
Thursday, September 12 & Friday, September 13, 2013 at 8pm
CFA Theater
$25 general public; $21 senior citizens, Wesleyan faculty/staff, non-Wesleyan students; $6 Wesleyan students
Pre-performance talk by Wesleyan DanceLink Fellow Naya Samuel '14 on Thursday, September 12 at 7:30pm in the CFA Hall.
Free master class with Doug Varone and Dancers Company Member Eddie Taketa on Friday, September 13 at 2:45pm in Bessie Schönberg Dance Studio, 247 Pine Street, Middletown. Please call 860-685-3355 to register in advance.
Only one spot left for Dine/Dance/Discover on Friday, September 13 at 5:30pm—add $15 to your regular ticket price above. Please call 860-685-3355 to purchase.