CFA Arts Administration Intern Chloe Jones '15 discusses the Juice Vocal Ensemble, who make their Connecticut debut on Saturday, November 9, 2013 at 8pm in Crowell Concert Hall. There will be a free sing along with Juice Vocal Ensemble on Friday, November 8, 2013 at 4:15pm in the 
Daltry Room (Music Rehearsal Hall 003)
.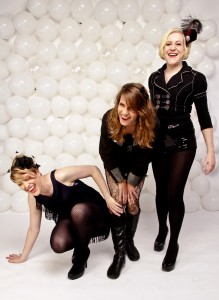 Are you in an a cappella group on campus?  Do you sing in a band or a choir or maybe just in the shower?  Did you dream of growing up to be a rock star?  Maybe you still do.  Whoever you are, if you love to sing, come join Juice Vocal Ensemble this Friday, November 8, 2013 at 4:15pm in the Daltry Room (Music Rehearsal Hall 003), 60 Wyllys Avenue, Middletown
 for a free sing-a-long.
Juice Vocal Ensemble is an experimental a cappella trio out of London. Featuring sopranos Anna Snow and Sarah Dacey, and alto Kerry Andrew, the group mixes contemporary classical with folk, jazz, pop, electronica, and world music.  Their debut album Songspin (2011) won an Independent Music Award for "Best Contemporary Classical Album" in May 2012.
Juice comes to Wesleyan as part of their first U.S. tour since an appearance at the South by Southwest Festival in March 2011.  Following the sing-a-long on Friday afternoon, they will perform in Crowell Concert Hall this Saturday, November 9, 2013 at 8pm.  Their set will include original arrangements of British folk songs and pop music by Guns N' Roses, Erasure, Mariah Carey, and Flatt and Scruggs; as well as compelling classical works by U.K. composers including Gabriel Prokofiev; six U.S. premieres, including one work written by Anna Snow; and the world premiere of "Ferrara Redux" by New York-based composer and Wesleyan alumnus Toby Twining MA '06
Additionally, there will be a pre-concert talk at 7:15pm on Saturday by Wesleyan University John Spencer Camp Professor of Music Neely Bruce.
Juice Vocal Ensemble
Connecticut Premiere
Saturday, November 9, 2013 at 8pm
Crowell Concert Hall
$22 general public; $18 senior citizens, Wesleyan faculty/staff/alumni, non-Wesleyan students; $6 Wesleyan students