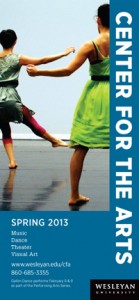 This spring at the Center for the Arts we bring you work that is of today: innovative, inquisitive and sure to surprise and engage you. Continuing our exploration of Music & Public Life, we bring you a concert of music from Thomas Jefferson's Monticello–what you might have heard both in the mansion and in the slaves' quarters–where audiences will have the chance to experience the first glass harmonica on the Crowell Concert Hall stage. The great activist and trumpeter Hugh Masekela will bring his band to Wesleyan, and our own West African Drumming ensemble will have the chance to open for him. In dance, we bring back Andrea Miller's Gallim Dance after their performance at the DanceMasters Weekend Showcase in 2011 brought audiences to their feet. Her piece Mama Call investigates her Spanish-Sephardic heritage, and the reprise of Pupil features the spirited music of Balkan Beat Box. In theater, we bring the master innovator Lee Breuer to campus with his newest work Glass Guignol, a compilation of texts from Tennessee Williams' women, performed by the indomitable Maude Mitchell.
In Zilkha Gallery, Lucy and Jorge Orta's Food-Water-Life will be on view. This is the first-ever solo show in the U.S. of work by these Paris-based artists, who stage performative events to bring attention to some of the world's most urgent environmental and social issues. The colorful sculptural works, including a large canoe, and three parachutes, will take advantage of Zilkha's scale, and a series of food events is being staged to more deeply connect you to the themes of the show.
Spring is also when you have the chance to put your finger on the pulse of the next generation of contemporary artists: an evening of work by seniors in dance, three theater thesis productions, four weeks of thesis exhibitions in Zilkha, and two solid months of music recitals will give audiences an overview of the art that is being generated at Wesleyan.
So please join us! We look forward to welcoming you.
Pamela Tatge
Director, Center for the Arts