Ustad Farida Mahwash is an astonishing woman.  She was a secretary in the 1960s at Radio Kabul and someone heard her singing.  Before she knew what had happened, she was singing on the radio and soon became one of Afghanistan's most beloved singers.  In the 1970s, the Afghan government awarded her the title of "Master" or "Ustad," the first woman in the country ever to be awarded this title.
But in 1991, after the Taliban took over, she was forced to flee Afghanistan and went to Pakistan until she was given political asylum in the United States.  She settled in Fremont, California, a suburb of San Francisco, in a neighborhood that is referred to as "Little Kabul."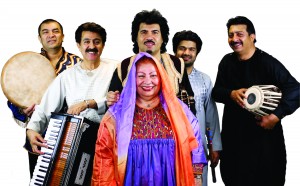 The internationally renowned director, Peter Sellars, asked Ustad Mahwash to perform inan evening that also featured Dawn Upshaw in George Crumb's Winds of Destiny, about a female veteran returning from the war in Afghanistan.  The ensemble that performed with her during those performances became Voices of Afghanistan, now on its first U.S. tour.  On Friday night, Wesleyan audiences will have the opportunity to hear instruments and music that are rarely seen in this country.
There will be a pre-concert talk at 7:15pm given by Wesleyan Professor of Music Mark Slobin. Slobin is the author of Music in the Culture of Northern Afghanistan and is one of the foremost scholars of Afghani music of the 1960s, said to be the cultural and political golden age of Afghanistan. Slobin explains that with the plethora of languages and ethnicities in Afghanistan, unification was difficult but crucial. The creation of a popular music style, played on the national radio station Radio Afghanistan, aided in Afghani cultural unification. The music style takes from both localized folk music and nineteenth century sub-continental courtly music, what Slobin calls "light classical Indian music." Ustad Mahwash was a star of this new popular music style and consequently an icon in Afghanistan at the time. Although Mahwash has spent a large part of her life outside of Afghanistan, her music has continued to be a reflection of the 1960s "golden age," evoking nostalgia in the Afghani people and giving an authentic snapshot of Afghanistan in the 1960s through the lens of evocative and beautiful music.
Voices of Afghanistan
New England Premiere
Featuring Ustad Farida Mahwash, Homayoun Sakhi
& The Sakhi Ensemble:
Khalil Ragheb, harmonium
Pervez Sakhi, tula (flute)
Abbos Kosimov, doyra (frame drum)
Zmarai Aref, Afghan tabla
Friday, September 28, 2012 at 8pm
Crowell Concert Hall
Pre-performance talk by Wesleyan Professor of Music Mark Slobin at 7:15pm
$22 general public; $18 senior citizens, Wesleyan faculty & staff, non-Wesleyan students; $6 Wesleyan students
Buy tickets online.
"The ensemble's music, alive with cyclic tabla rhythms and spiraling rubab phrases, somehow echoed the sounds and intensity of the times."
—The New York Times
Vocalist Ustad Farida Mahwash, the only woman to receive the title of "master" in Central or South Asia, is celebrated around the globe for her exquisite approach to poetic ghazals (folk songs). Artistic Director and rubab (double-chambered lute) virtuoso Homayoun Sakhi creates an acoustically rich crossroads for sawol-jawab (an interplay of questions and answers), exploring traditional and contemporary Afghan melodies on the inaugural tour of Voices of Afghanistan, which includes the musicians of The Sakhi Ensemble on tabla, harmonium, doyra (frame drum) and tula(flute). A Crowell Concert Series event presented by the Music Department and the Center for the Arts.
Watch and listen to a music video for the song "Josh," composed by Homayoun Sakhi. The song features Homayoun Sakhi and Abbos Kosimov of Voices of Afghanistan.
Voices of Afghanistan is the first performance of Music & Public Life, a year-long campus and community-wide exploration of sounds, words, and the spirit of music in public. Music & Public Life consists of concerts, workshops, gatherings, and courses, all designed to cross disciplines and to engage the campus and Greater Middletown communities. For more information, please visit www.wesleyan.edu/mpl