As some of you may know, in addition to my work as the Press & Marketing Manager at the Center for the Arts, I am also a drummer/percussionist, composer and bandleader. Several of my projects are improvisational ensembles that feature the crossing of genre borderlines, including jazz, funk/fusion, and rock. I am always excited when Wesleyan features jazz artists—from Charles Lloyd (who was one of David Liebman's teachers), Kenny Barron, Sherrie Maricle, Anthony Braxton, and Jay Hoggard, to Lionel Loueke, Taylor Ho Bynum and Noah Baerman—so I was happy when I heard that the summer programming committee had selected Mr. Liebman's group as one of the evening performances this month, at the suggestion of Gene Bozzi. Mr. Liebman's group has explored a wide variety of contemporary styles, ranging from bebop and free jazz to fusion and Brazilian.
At Wesleyan, Mr. Bozzi is a Private Lessons Teacher for percussion/drums, and the Music Department Chair at the Center for Creative Youth, a summer residential arts program here on campus. He is also the principal timpanist with the Hartford Symphony Orchestra (one of my previous employers). Over the weekend, Gene shared with me a bit about his work as a jazz sideman:
"I met Dave Liebman in the late 1970's, when I was playing drums in a local Hartford group called Jazz Icarus. We were just out of college, and trying to get our 'jazz chops' together, but fortunate enough to score one night a week at Mad Murphy's on Union Place. We would bring Dave in as our guest artist and give him all the money for the gig. It was like on the job training for us, we learned a lot. He would talk about his gigs with Miles Davis and Elvin Jones. I am thrilled that the Center of the Arts is bringing in artists of this caliber to perform and interact with our Center for Creative Youth students."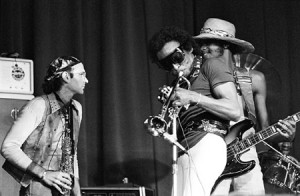 I first remember hearing David Liebman's sax playing during the spring of my junior year of college in 1998. I was studying music at Syracuse University, and graduate student/saxophonist Chris Mannigan put Panthalassa: The Music of Miles Davis 1969–1974 – a Miles Davis remix album by producer/bassist Bill Laswell – on the stereo at a party. I soon sought out the original albums On the Corner (1972) and Get Up With It (1974). Mr. Liebman also appears on Miles' live album Dark Magus, recorded at Carnegie Hall in 1974.
Writer Alan Bisbort talked to David Liebman this past Saturday morning, following Mr. Liebman's return from a tour that had stops in Austria, Finland, Switzerland, and Italy:
Liebman thinks what makes a "classic" recording is something of a beautiful mystery.
"Look at [John Coltrane]. He recorded his Giant Steps and then played on Miles' Kind of Blue within a month of each other. Both are totally different, both are now musical milestones. And yet, if he thought about how they'd be received he probably never would have gotten out of bed in the morning," says Liebman laughing. "There was a lot of traffic for musicians back then. Each session was a musical challenge, but you are also making a living."
Liebman promises a "variety of things" at the Wesleyan gig.
"It really depends on the audience, the vibe, the size and even the sound of the room. I don't really know until I see all this," said Liebman. "I'll have my martini, then check out the crowd from backstage and draw up a set list. I can quote from a huge repertoire, everything from Ornette [Coleman] to [Antonio Carlos] Jobim to Cole Porter."
You can read the rest of Alan's article in the print edition of the Advocate on July 19 (or online here), and then head to Crowell Concert Hall that night to hear David Liebman's group, which features guitarist Vic Juris, bassist Tony Marino and drummer Marko Marcinko.
David Liebman Group
Thursday, July 19, 2012 at 8pm

Crowell Concert Hall
$22 general public; $19 seniors, Wesleyan faculty & staff; $10 students